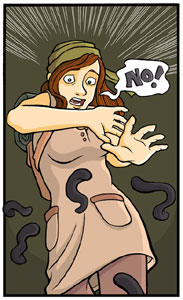 It's the second week of Bomb Shelter Idol. Last week I sang the praises of the fast-paced, buddy-comedy/vampire flick webcomic, Zed Reckoning.
This week I want to highlight a completely different webcomic called What Birds Know. What Birds Know is also incredibly well-rendered with a lot of obvious thought given to the characters, the backgrounds, the "camera angles". It's also well laid-out on the page (each installment is about 660 by 930 pixels which provides enough space to make panel arrangement important). The story of three girls out on an adventure certainly has a much more measured pace then Zed but it doesn't drag even as you read through the fairly solid archives. In fact, Birds seems confident in its pace and its careful layering of foreshadowing and tension is enough to build to what could be a big pay-off. Could be. I have no idea what is going to happen next, but I'm definitely hooked.
So far it looks like both Zed and Birds are safe with the voters in the Bomb Shelter Idol contest. I hope we keep it that way as both of these are great comics in their own ways.