Occasionally on the various webcomic related forums around and about, someone will ask "does a webcomic have to be funny?". The answer is, of course, "no."
Except… there's something wrong with that answer. Or perhaps it's the question. People already know serious comics work. Even if they've never seen one online, they know about the mainstream superhero romps at their newsagents. Why do they even ask? Why are they paranoid about doing a serious webcomic?
It's possible their subconscious are picking up on something they can't quite see themselves.
There is a vital quality of comics that makes the readers want to come back for the next installment. In funny comics, this quality is easy to see. It manifests as the gag and we can all recognize a joke. We know how they work and how they're put together. The structure of humor is wired into our social instincts somewhere. It's like working with clay – anyone can do it.
Now, remove the gag…
What makes the readers come back to a serious comic is much harder to see. This is more like working with 3D modeling software than clay. It's less intuitive and harder to fathom how it works. Still, although it's harder for the beginner, many people who are practiced with clay find changing over quite easy, since the underlying principles are the same.
And they are.
What makes a serious comic work is exactly what makes a gag comic work.
Dramatic Structure
Let's start at the beginning. Anyone who's done a creative writing course, will recognize this.

It's a graph of dramatic structure. Here, it's intended to describe a plot, which is a long-term quality of a story. Moving from left to right, you introduce the characters and setting. Then a conflict arises and the action rises all the way to the climax, where the conflict is resolved. Finally, the story ties up the loose ends and delivers the happily ever after.
But it has other, shorter term uses as well and can be used to describe a single strip or a single issue. Do so, and this becomes the recipe for how you make the readers want to come back next time – whether you're writing a gag comic or a serious one, whether a page a day or an issue a month.
We just need to make a small edit…

Mainstream Comics
The multi-issue story arcs in superhero comics use the dramatic structure just as any story does, but they also use the cropped version above over the course a single issue in that arc in order to entice the readers back next month. The comic will start where they left off last time and slowly raise the tension, the action and the stakes over the course of the twenty or thirty pages, before hitting you with a climax.
At which point, it stops – either just before or just after the climax. Either way creates drama, usually in the form of a cliff hanger. The readers are then much more likely to come back next month to find out what happens next, at which point there may or may not be a slight dip to resolve the previous climax but either way, the action will continue to rise further.
A lot of webcomics use the same idea. For example, this page is the climax of chapter 7 of Gunnerkrigg Court by Tom Siddell. The very next page is the last in the chapter, creating a cliff hanger. Tune in next time…
Of course, because it cannot be entirely avoided, you occasionally get a denouement when the story arc ends, but it's interesting how many story arcs end on a hint that it's not quite over yet. There's always a touch of an unresolved climax hanging on the end to make sure you keep on reading.
Stopping either side of a climax is a really great way to drag the readers back next time but mainstream comics have thirty pages to play with in the meantime. Webcomics, on the other hand, update a page every day at absolute best and frequently update as little as once a week. Like the print comic, they need to drag you back for next time – except that the webcomic has to do it every single page.
How? Same way.
Gag Comics
Let's examine the dramatic structure against some gag comics. Gag comics use this same dramatic structure automatically without realizing it, because that's how a joke is put together. Here's an example gag comic from Cortland by Matt Johnson…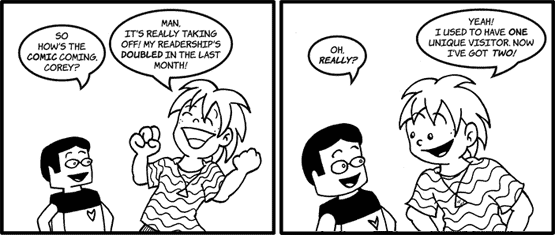 And here's how it breaks down using that same dramatic structure.
Introduction:
"How's the comic coming, Corey?"
Rising action:
"Man, it's really taking off! My readership's doubled in the last month!"
"Oh, really?"
Climax (or punchline):
"Yeah, I used to have one unique visitor. Now I've got two!"
A gag comic has the same dramatic structure as a complete story. In fact, any sort of joke does. There's usually no denouement, though, although there can be.
Let's look at a couple more. This time, I'll graph them directly. Firstly, here's a single strip from School Spirit by Daniel VanderWerff.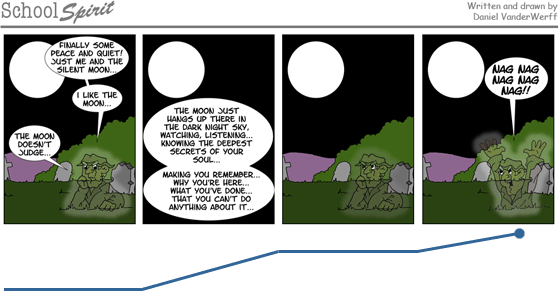 It has the same structure again, except this time there's a pause for comic timing. In terms of the graph, it holds the tension for a few seconds before we get to the punchline.
This is a strip from Zoology by Nathan Birch.
It's a little more complex, as we have a change of scene. We introduce the subject of the strip in the first panel and build some drama in the second. Then we switch scenes, introduce the new character, and he lends some more drama to the strip in the fourth panel. The two lines converge for the punchline in the last panel. However, in spite of the extra complexity, you can still see it follows the same pattern.
This is the exact same technique as used by the mainstream superhero comics. At the end of every update (whether a strip or issue), you have a moment of drama balanced on a climax. It doesn't matter if it's big, small, funny or serious. It works the same way and for the same reasons.
And it's what a lot of serious webcomics don't have.
Serious Webcomics
Using this dramatic structure to create cliffhangers, drama and gags happens automatically. It's a natural part of writing that we've picked up subconsciously by reading stories and comics.
And yet serious webcomics have a big problem with this. Mainstream comics entice you back every month and gag comics entice you back every day. It just happens and we barely have to think about it. Serious webcomics, however, generally do neither.
What, exactly, is wrong here?
The problem is that many writers of serious webcomics use comic books as a guide – which is to say, they have a cliff hanger around every thirty pages or so. Unfortunately, they also use webcomics as a guide and release pages singly. Most of those pages, however, probably don't have anything much to grab the reader.
A quick bit of math shows the problem clearly. A mainstream comic is released once a month and will have one cliff hanger at the end to bring you back next month. A serious webcomic using the same pacing but updating, say, once a week, would have a cliff hanger once every twenty weeks or so. That's just twice a year that the comic grabs you and screams "Man, you just gotta come back next time!"
It's the worst of both worlds.
The serious webcomics that do it right – that grab you at the end of each and every comic – are usually the gag comics which have briefly gone into serious mode because something important is happening. General Protection Fault and College Roomies From Hell are two popular comics that regularly do this. They abandon the gag-a-day mentality and give you a drama-a-day comic. Because they're usually gag comics, they're used to keeping a little climax at the end of every strip and this carries over when things get serious.
Here's an example of just that. Emergency Exit by NJ Huff is a humor comic going into serious territory. Yet, even without a punchline, our graph maps the same way.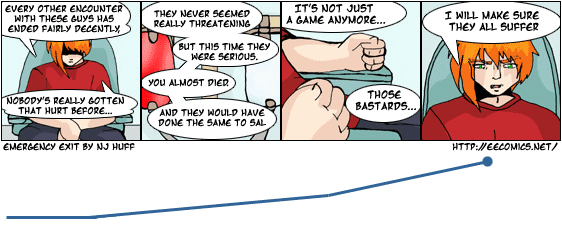 The same dramatic structure rules again, only instead of over thirty pages, like a comic book would do, this is in a scant few panels. Nevertheless, the cliff hanger is there and the reader will want to know what happens next. Even the rare non-fiction comic uses the same tricks, such as this example from the science comic Reasoned Cognition by Ryan Kolter.

If you're creating issues akin to comic books but releasing the pages singly like webcomics, there are a lot of pages which either have very little drama or none at all. It's too large to include directly, but here's an example of a page from The Curious Adventures of Aldus Maycombe by Janine Harper.
Our graph is a flat line. Nothing much is happening, there's no drama and no cliff hanger. If the next update of this webcomic is in a week's time, most people would have forgotten this page entirely and may have to struggle for a moment to recall the context.
However, flat lines do have their uses. With the amount of action so small in a single page or strip of a webcomic, you can also hold the level of action from the previous comic. Here's a good cliff hanger from Tales of Pylea by A. Chow and Matt Summers where big, dramatic things are clearly beginning to happen. This next comic resolves nothing but simply holds the level of drama. This works best with tension. You can have a single comic which neither dips nor rises, to maintain the tension set up by the previous comic and keep the readers' breath held.
There are a few serious webcomics such as Inverloch by Sarah Ellerton that release batches of pages instead of a page at a time. This is usually a compromise between the mainstream rate of twenty to thirty pages a month and the webcomic rate of a page at a time. Usually, it's not a whole "issue" but having a few pages even without a cliff hanger gives the reader more context and progression than a single page at a time.
Keeping people coming back
Using this dramatic structure to create gags, dramatics and cliffhangers keeps the level of interest high, motivating the audience to keep coming back. It also helps them remember what's going on since the more interesting something is, the quicker and easier it will be to bring it to mind.
And it's not just comics. Movies, television, novels, computer games… They all use this short-term structure to create moments of drama and to keep your interest peaked. This article did the same, leaving little cliffhangers at the end of some of the sections. It's a natural part of writing and happens, most of the time, completely automatically.
But with serious online comics, people tend to follow the wrong parts of two separate models, trying to write a mainstream comic which is released in pages like a webcomic. And it does work, for the most part, usually because of high quality of the writing since it is the true storytellers who generally want to write serious comics. Nevertheless, there is an advantage that they lose by not using this short-term dramatic structure to drag their readers back each time.
So, does a webcomic have to be funny?
No.
But…