Not too far from where I grew up, just a bit south of Tombstone ("the town too tough to die" – a great tourism slogan) and east of Sierra Vista ("where vacations last a lifetime" – a more questionable tourism slogan, if you take it from the wrong perspective), there is a little town called Bisbee.
Bisbee, Arizona was created initially because of the massive copper mine there, but as that economy diminished, the town began to lure artists therein to create and sell their wares. More and more artists began to flock there, in search of a community that would support their work not only with a pat on the back but with a greenback or two. People that were struggling to make a penny off of their paintings, jewelry, and other creative endeavors were suddenly able to do what they loved and feed themselves and their loved ones at the end of the day.
Art colonies in America really began taking shape between the late 1880s and the 1920s, when groups of artists began congregating in areas where they were free to pursue their work. The decision of where to go was influenced primarily on who was already working there (some highly recognized talent), and by the visual stimuli available to them in their surroundings from which to draw inspiration for their work. By working together, they were able to support one another, and patrons could go find a multitude of offerings all in one place, some of which was likely to meet their desires (and lighten their wallets). The artists in these communities could learn from another as well, thus enhancing their abilities and bettering their wares. Ultimately, these colonies represent a great environment for artists to flourish, allowing them a much easier time of reaching their goals than they would have on their own.
Now we are at the turn of another century, and the concepts of community, economy, and art itself have changed drastically. In the case of our online comic endeavors, we have a wonderful and unique opportunity. We can become a part of an art colony, a supportive artistic community that works together towards similar goals but doesn't have to go it alone. And we can do it without ever leaving our homes.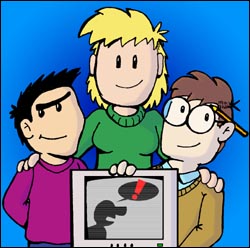 Pants Press and Dumbrella both seem to be collectives of online comic artists who all basically just get along, dig each other's works, and decided to pool their efforts on certain things. Modern Tales and Keenspot have formed even larger communities (large enough that several other subgroups have formed within them), and in fact the collective aspect of those companies is absolutely key to their financial success. Even Comixpedia is driven by a community of creators with a common purpose and similar interests, and of course ultimately a passion for online comics. The forms they are taking differ from group to group, but a lot of the advantages that they gather by forming the groups are the same.
The key to any good group is how well it interacts. Every member is of course his or her own personality, and brings their own talents, desires, and egos to the table. So, the way a group's members act together can be its greatest asset or its biggest liability, its success or its downfall. I quite honestly have only become aware of the groups that have succeeded in intermingling their egos well, and I have likely only heard of them because they have been able to stay the course and make something they are all happy to be a part of.
And when a group works, it's a beautiful thing for the creators and the fans. As I write this column I keep thinking back to the Dumbrella booth at last year's Comic Con in San Diego. I watched fan after fan walk up to the booth, initially interested in one or two of the artists, get to talking with the other members. They'd walk away with sketches and/or swag from people they hadn't paid much if any attention before. All of the Dumbrella websites promote the other members as well, and that cross-pollination leads to a larger fan base for everyone involved than if they had just gone it alone. In fact, knowing the prices of booths at the Comic Con, without the number of people all chipping in together that they had, their ability to profit from the event likely went up considerably. The fans were able to check out the books and other products in person instead of deciding whether to buy them based on a little 72 dpi picture on a monitor.
Best of all, everyone seemed to be having a lot of fun. The creators got to hang out in person together instead of just talking to someone's avatar in a forum or via e-mail, and the fans got to come up and talk to the artists they have come to appreciate through their modem connections. After my column last year regarding faith as a reason to keep doing online comics, one of the responses I got was from Tragic Lad.
"Why do I do webcomics? From a logical, rational point of view? Because I enjoy it."
That is the one reason I had sort of neglected to mention, and it hit me like a ton of bricks when he said it because that is probably the most important reason to be doing any of this. If it isn't fun, then what's the point? The more the merrier is probably the glue that best holds any of the online creative collectives together. Being a part of a group where everyone gets along really well, has common interests and similar goals, and has a respect for each other's work has a really nice feel to it, and when the readers pick up on that vibe they feel a warmth almost as though they are a part of it, too.
Iain Hamp is a contributing columnist for Comixpedia.
Illustration by Miguel Estrugo.