A freewheeling discussion about the wide world of webcomics with Eric Burns, Wednesday White, Phil Kahn, Giland Pellaeon, Bob Stevenson, Ping Teo, Daku, Karl Kuras, Doctor Setebos and William G, moderated by Xaviar Xerexes.
You may have noticed that in 2005, the "webcomics blogosphere" took off like never before. There were almost as many people writing about webcomics as making them (okay not really, but there were a whole lot more blog posts about webcomics this year.) We gathered together several popular bloggers for an online roundtable discussion on webcomics here at the tail end of 2005.
We talked about webcomics and creators, art and commerce and of course, webcomics drama. Plus some predictions for the year ahead.
We were joined by both Eric Burns and Wednesday White from the godfather of webcomics blogs, Websnark. (Burns and White also write regularly for Comixpedia.) Websnark started in late 2004 and among its many contributions has added an entire lexicon to webcomics with such terms as "Cerebus Syndrome", "Tasty, Tasty Biscuit" and "Charlie Brown's Football". Also joining us were Phil Kahn from I'm Just Saying and Giland Pellaeon from Webcomicker, two of the more entertaining and informative webcomic-focused blogs to start up this year. We were also joined by Bob Stevenson of Journey Into History and Ping Teo of Webcomic Finds (Teo also writes regularly for Comixpedia.), which are more review-oriented blogs. 2005 also saw the debut of webcomics-focused podcasts. Daku of the podcast, Digital Strips, and Karl Kuras of Gigcast joined us. Finally, we had two of webcomics more outspoken personalities onboard: Doctor Setebos of The Evil Network and William G of The William G Blog.
I asked the questions and did my best to keep up with our panel.
Xaviar Xerexes: What were your favorite five webcomics in 2005 and why? What was your favorite new find of 2005? What was your absolute favorite moment in webcomics this year?
Daku: Skipping past the obvious top five in no particular order, it would be Least I Could Do, Devil's Panties, Comedity, Questionable Content, and Inverloch. The later question is harder, but I'll have to go with Inverloch. I was simply stunned by the artwork and loved the story.
Karl Kuras: Penny Arcade, Sinfest, PvP, Atland and Shortpacked.
Eric Burns: Alphabetically (to be as fair as possible) I'd have to say Achewood, Daily Dinosaur Comics, Goats, Narbonic, PvP and Questionable Content. Achewood is the strip that soaks into my brain. I can quote bits of it to other folks who know Todd, and it's like we're all o�n the same level. Achewood is our jazz music, and already it's causing the world to break down and form rock and roll. Daily Dinosaur Comics is wholly remarkable — it's a testament to the twin powers of creativity and writing. Ryan North gets it, on every possible level. Goats is doing the "storyline that changes everything" as right as any comic strip I've ever seen do it. Rosenberg's managing to keep the funny while changing the entire playing field and keeping me glued to my seat. Do you have any clue how hard that is?
No, seriously, do you? I have no means of quantifying it.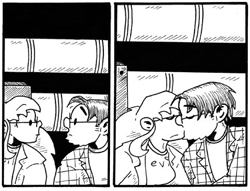 Anyway. Narbonic is the single best comic strip being produced in the world today. It most exemplifies the tradition of the Newspaper Comic Strip of any comic I know of, it proves the power of continuity while remaining accessible for the casual reader, and it's damn funny in all those hip post modern ways too. Shaenon Garrity just groks comics. PvP, on the other hand, understands webcomics as well as anyone ever has. Scott Kurtz paces for the web as well as anyone out there, his characters grow and evolve, his situations provide the requisite comedy, and oh yeah, he's funny. I mean, Dude. Finally, Questionable Content is in the process of executing a backstory that's been hinted at for years, and it's being absolutely riveting in the process.
If I had a sixth, it would be Something Positive, but this wasn't the groundbreaking year that last year was for S*P. However, I will give S*P the "absolute favorite moment" tag, at the moment where we have learned that Fred has Alzheimer's, but Monette doesn't know, but she is still sobbing as she says she loves him, having seen what real parental love is for the first time in her life. That moment was a heart punch. Milholland also gets the nod for "favorite new find." It's weird to say, but Midnight Macabre is, for my money, a better strip than Something Positive. It didn't make the top five because it updated sporadically — I don't blame Milholland for that, but it was hard to give it the nod over strips that really blew me out of the water day in and day out all year long. After that, I'd say The Devil's Panties, as this was the year I really got into it.
The other "moment in webcomics" that blew my mind was the Hurricane Katrina webcomics charity events — both the Blank Label organized one and WLP's adult event. It's one thing to say "we should help some folks." It's another to suddenly get hundreds of people on board, producing their brains out.Yes, I had six top five strips plus several also mentions. Wanna make something of it?
Wednesday White: I don't work that way. Assigning hierarchial value to apples and oranges isn't something that makes any sense to me at all. Do I like pomegranates more than flannel? How do I determine that? I can tell you that I think Achewood's characterization beats anyone else's that I've seen this year, but I don't think that that makes Achewood a better strip than other things I've enjoyed. Questionable Content is remarkable to me for its rapid development on pretty much every level. Everything Lea Hernandez does absolutely floors me, so the rebirth of Near-Life Experience and the launch of Ironclad Petal were beyond delightful. Penny Arcade is an entrenched part of my household communications, but I also accept that I am utterly pedestrian. I could stare at the linework in Wapsi Square for days, trying to figure out how to even approximate it myself. But I can't pull out Five Things I Like Best because that concept doesn't make sense to me at all. It feels forced.
Phil Kahn: I hate answering this question. I don't like picking favorites, or establishing what's better than what, or saying there's any sort of "The Best," on such broad terms. But a few of my favorite webcomics this year have been The Last Days of FOXHOUND (most gripping fancomic I've ever read), Dominic Deegan (every day is part of the greater wonderful saga), Belphegor (biting political commentary and the smartest poop jokes around), Rob and Elliot (consistently side-splitting), and Something Positive (I mean, c'mon). During the WCCA's, Shaenon Garrity let people read the entire Narbonic archives for free, so that easily was my favorite new find of the year.
The Webcomics Telethons for Hurricane Relief were also my favorite Webcomics events, and the most important things we've done as a community. I don't feel as proud of anything I've done in webcomics as I have with simply participating in these efforts.
William G: Funnily enough, my favorites this year didn't change much from 2004: Dinosaur Comics, Nine Planets Without Intelligent Life, and Perry Bible Fellowship were my most regular reads. This year I added to that top five list two new comics that made me say "Where have you been all of my life?" with Narbonic, and Digger.
Doctor Setebos: Penny Arcade, because the art and the humor have both improved this year, and their business acumen has become more mature as their fanbase has increased to mega rock star proportions. Perry Bible Fellowship because it absoluely does not fail to make me laugh, ever. Sheldon, for the same reason. Gossamer Commons because Eric Burns rocks greatly. And Wapsi Square because Paul Taylor is a genius at mixing fantastic, serious storylines with great stress-breaking humor. His pacing is extraordinary.
My favorite new find was Wapsi Square. My favorite webcomics moment had to be when Pete Abrams admitted that Sluggy was crap. I want his "I'm sorry" letter to his fans etched in stone. A close second was when Chris Crosby actually missed an update. I think that will send far-reaching shockwaves throughout the webcomics community.
Xaviar Xerexes: I think it was pretty honest of Abrams to post that open letter about the "Unmoving Oceans" storyline. And since Abrams clearly likes that storyline he's not just going to shelf it and go in a different direction with Sluggy. But if it was up to me he would. I wish he would put it aside, work on it offline and publish it all at once. I love Sluggy, but I feel like I need to start my own "Had Me and Lost Me" list because I'm not enjoying it right now. Compare Sluggy this year to Narbonic. Sluggy used to be able to do what Narbonic does without fail: weave characters, plot and humor in a storyline with immense payoff and yet still deliver in each day's installment a reason to read the webcomic.
Bob Stevenson: I can't narrow the field. There's too much interesting work going on. For me, the hunt for new neatness is my favorite. My new find is Bunny. It opens up some nice direction for comics and the web (T Campbell seems to have recognized the potential with his Search Engine Funnies). Bunny started in 2004, but I discovered it this year. Also, Five Bucks to Friday . I don't understand why this o�ne's not more popular.
My favorite moment would be The Daily Grind. If we can't get money out of viewers, we'll beat it out of each other. Darkly entertaining.
Ping Teo: You know, it's really hard to pick just a top five, particularly when you write a blog all about your favorite webcomics. Probably Digger, No Rest For The Wicked, Darken, Nahast and LinT. I have a soft spot for fantasy tampered with humor and horror, and those comics satisfy that craving.
Favorite moment? Probably when someone took my idea for a webcomics tabloid and ran with it in regards to the webcomic documentary flamewar. Ok, it was short-lived, but I will never forget the moment when I saw the headlines screaming about "Penny-Arcade's Secret Debacle" or something like that. *snickers*
Gilead Pellaeon: It's really not possible to choose a top five in terms of quality, because as Wednesday said comics range so wildly that they can't really be compared. So my top five is more of a list of the comics which provided me with the most enjoyment over the course of the year, which is really the greatest achievement of a comic anyways (to provide enjoyment for its fans). So here they are, in no particular order: Count Your Sheep, Penny Arcade, Starslip Crisis, Questionable Content, and Melonpool. These are the comics which I was most likely to tell my friends "Oh wow, you have got to go read this…" Count Your Sheep has only gotten better as Adrian Ramos made the switch from ink and paper to digital drawing. Penny Arcade seems obligatory on a list like this, but I thought this year they had a lot better jokes than last year, and the artwork has continued to improve as well. Starslip Crisis was a newcomer but I don't consider it a "find" due to it's popularity, and in it Kris Straub has taken the artistic stylings and humor of Checkerboard Nightmare and given them a world to flex in, with great results. Everyone already knows why Questionable Content is o�n the list. It's just plain good. And lastly with Melonpool not o�nly did we see some interesting storylines but we saw perhaps the single most dramatic reboot in the history of webcomics. We're talking the deletion of NINE YEARS of archives.
As for best new find, I'm going to have to award that o�ne to Mousewax, which I found through The Daily Grind. Consistently funny, consistently updated, consistently quality work. It's a wonder to me that Brandon Lewis doesn't have more readers.
Best moment of the year, hands down, goes to the Hurricane Relief Telethon, with second place handed to the San Diego Comicon Webcomic Panels (that's right, a webcomic event that didn't take place o�nLINE! *shock!*). The telethon just showed that webcomics creators can put aside their silly little squabbles and truly produce something great. And the Webcomic Panels were some of the most informative, entertaining, and all around useful panels probably EVER at the San Diego Comicon, and I think everyone there would agree with me.
Xaviar Xerexes: Who were the most influential people in webcomics this year?
Daku: For this year I would name Brad Guigar and Jack Thompson. I know Brad and Jack couldn't be further apart, but they put webcomics in the spotlight like no one else. Brad is one of the six founding members of Blank Label Comics, the creation of which started an avalanche of collectives, and he distinguished himself as a PR juggernaut this year. He got coverage from Slashdot, Editor & Post, The Comics Reporter, Comixpedia, and probably every single blog that cares about webcomics. And he didn't stop there, but he also led the Webcomic Telethon event. And Jack Thompson. This over-inflated clown of a lawyer did more to get people to notice webcomics then Scott McCloud has done in 10 years. It all started with VG Cats, then a little lashing back from Ryan Estrada and Tim Buckley, and then it escalated to an all out verbal war with Penny Arcade. The whole violent game fiasco exploded on the gaming scene with coverage from Slashdot, Digg, BoingBoing, nearly every gaming magazine, and more then a few major news sites.
William G: Obviously, my main man Joey Manley. He finally launched that Webcomics Nation service he's been promising for seventeen years, and it's a fine bit of coding. And with the huge number of people jumping into it, I think others agree with me. Eric Burns. Eric has sort of become the Roger Ebert of webcomics. Everyone looks to his opinions as the yardstick to base their own upon. And he's at the point where his deviating from the format to pimp his own work causes fans to complain. Which is stupid of them. But it does show how important his occasional snarking of Something Positive has become to folks.
Karl Kuras: I'd say the most influential would be the Blank Label founders for their break away from Keenspot, Gabe and Tycho for organizing their fan base so well and Owen Dunne for getting a development deal with Fox for You Damn Kid.
Bob Stevenson: It's not Scott McCloud anymore. Cat Garza deserves the title of least likely influential person not because his work doesn't deserve recognition, but because of his strange path to influence. Can we pick someone involved in the roundtable? Eric Burns was incredibly influential despite having cut down on the webcomic copy. His is a measured voice of reason that we need to hear from more often than he's able, a force of great good in webcomics. The short list for third is blurry and long – Joey Manley, Phil Foglio, William George, Tycho and Gabe, Scott Kurtz, T Campbell… They're influence, though, is in vastly different circles and too difficult to compare.
Doctor Setebos: Definitely Joey Manley is at the top of my list. He's got his fingers in several successful webcomics ventures that he has lovingly crafted from the ground up, and everything that man touches turns into webcomic gold. Another would have to be Eric Burns, because if there's another webcomics critic in our community that is MORE likable than Eric, I have yet to hear of it. To have someone who can so eloquently critique a webcomic, piecing apart its intricate nuances, is a rare thing in our current age. And Eric is well-respected by most corners of the community.
T Campbell is also high on my list as he has his fingers in probably more webcomics projects than Manley. Sometimes I think they're competing against each other (drama!). But honestly, with the History of online Comics book, Graphics Smash, Penny & Aggie, Oh No Robot, and other projects on his plate, T Campbell is a busy name in webcomics.
William G: T Campbell is a smooth player. Running around behind the scenes like the power behind the throne. You don't really notice him because he isn't loud and noisy about the fact that he never seems to sleep, eat, or go to the toilet. But then "BAM" there he is, in front of you with something new and important… like some crazy Edison with ninja skills. Sneaky bastard.
Daku: T Campbell was so close to being on my list, but I don't think his impact will truly be felt until next year with the release of his book and if OhNoRobot takes off. Eric's another story all together and I can't wait to read his response, it just might take me all day. Eric is the only person in the medium who can convince me to sit down and read 5000 words without my ADD kicking in.
Eric Burns: Dude — I'm sitting right here. I mean… I…Well, okay.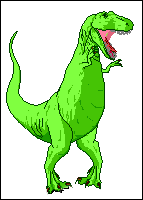 Top three? Ryan North, Joey Manley and Scott Kurtz. Ryan North I think absolutely transformed the world of webcomics. Daily Dinosaur Comics was a depth charge in peoples' expectations, and this was the year it exploded. I'm always excited when someone brings monumental writing skills to the party. Other folks (most notably David Lynch) have tried the "static art" style before, but North out and out transcended it, and inspired lots and lots of people to follow in his footsteps. Joey Manley is, in many ways, the visionary from inside the webcomics community (as opposed to someone like Scott McCloud, who came from the outside) who most drives its evolution as an art form. He's the one who provides places for far more esoteric comic strips to find themselves. Look over Serializer.net, and consider how many if any of those would ever be found on Keenspot. And now, with Webcomicsnation, he's poised to give the world the turnkey webcomics publishing solution that others have tried. It's so simple… well, I can use it.
Finally, Scott Kurtz has — here's a word that will probably bug him — matured into the role of elder Webcomics statesman, in a way most of the other webcomics iconoclasts haven't. Oh, he's still in the thick of any number of arguments all around himself. He's still Scott Kurtz, after all. But he's also the one who's both pushing the publishing envelope and signing on to the newest trends. When Blank Label Comics launched, he was right there, giving it a strong blessing (and a hell of a lot of free publicity). It would be easy for someone in Kurtz's position to want to keep movements like that down, but instead he got excited — and predicted the financial benefits that Blank Label (and the other collectives) have shown. In a lot of ways, if Joey Manley was the figure most influential on the artistic growth of the medium, Scott Kurtz was at the vanguard of webcomics's financial and commercial growth.T misses my list this year, but he's poised to be the biggest story of next year. Other honorable mentions include Kris Straub and Shaenon Garrity.
Wednesday White: And, again, I'm not really seeing it. The movement exists in such small, tight, relatively isolated pockets that we can really only evaluate top-down impact within those limited circles. We don't communicate well. The closest we get are the people behind various services, and, of those, only Webcomics Nation is genuinely far enough along to be a big deal *this* year instead of *next* year. I therefore default to Joey Manley, but I don't feel comfortable about it.Bluntly, I do not feel that we are ready for these sorts of questions yet, and that this state of affairs will persist for some time.
Phil Kahn: I agree with Wednesday. We really aren't yet in a spot where we can say who's influencing the whole of us (save the folks who've been influencing since the beginning). If I had to pick names, one would be Eric Burns (and Weds) for pioneering the whole Webcomics Criticism thing. Straub and Guigar for being the driving forces behind Blank Label, the Telethon, and other such events. Other than they, I can't really think of anyone who is an influence.
Gilead Pellaeon: I think it's important to realize that there's really two questions buried in this one question: "Which person was most influential in the actual webcomics community" and "which person was most influential in illuminating webcomics to the world at large". People seem to be answering both sides of the question without acknowledging that there are two sides. Sure the formation of Blank Label Comics had a huge and far reaching impact within the world of webcomics, but beyond that? Zilch. on the other hand, Count Your Sheep gets mentioned in the freaking New York Times as a pretty decent comic and it doesn't so much as make a blip on the radar of the webcomic community. In terms of influence within the webcomic world, it's got to be the Blank Label comics guys first for taking the word "webcomic collective" and really making it mean something and second for organizing the Webcomic Hurricane Relief Telethon, the single greatest event of the year.
In terms of influence outside the webcomic world? Honestly it probably is old Fred Gallagher at Megatokyo. By appealing to the larger market of anime fandom and being published by no less than Dark Horse Comics (which ain't no Lulu), he consistently introduces the most non-webcomic people into the world of webcomics. Like him or hate him, he has real influence beyond our little world.
Ping Teo: Just so I make Eric burn at the ears again, I think Websnark has been the single most influential bit of written commentary this year. It's something like the Time magazine of webcomics if you will. He's been starting discussions which in turn start projects… like the Webcomics Encyclopedia thing. Now that's influential.

Xaviar Xerexes: Do you think the medium of webcomics grew this year or did it stagnate? Which creators do you think contributed the most?
Bob Stevenson: In the long view, webcomics are still moving in neat directions, but up close 2005 doesn't seem all that special. Taking the long view though, I think, all those folks learning how to play both the print and web-world have the potential to make both worlds a little better.
William G: Three things happened this year to improve things. First, you began to see a general ramping up of the quality of the works being produced. Part of that was WCN bringing actual artists instead of hobbyists to the fore, but also the hobbyists themselves had become pretty established and confident enough in their art to try and bring their A-game. Ghastly's Ghastly Comic (NSFW) springs to mind as an example of the latter. Next, established print artists have started coming to the web. Now granted, someone like the Foglios aren't huge comic names, they're more cult figures than anything. But they are established enough that they hit the ground running and have managed to earn big reader numbers as well as get some cash from it. And print artists have taken notice. Frank Miller is doing a PSP comic. Now, that's not the web, but it does show that electronic distribution of comics is no longer a laughing matter for them. And these people, they are pros. They are good at what they do. And they brought the level of quality up a lot by their presence. Finally, people finally started accepting the critics. And by accepting us, they're also accepting the fact that webcomics are worth talking about.
Karl Kuras: The big strips are solidifying and becoming, well, mainstream strips. The massive amount of new strips hitting the street was a lot, but I don't think it increased as rapidly as in past years. We are now seeing more and more recognizable names appearing and there are a lot more "top tier" strips. It's a maturing process, which is beginning to bear fruit, and may yet become a financially viable way of earning a living for a lot of people very soon. So I would say 2005 was not stagnant at all, but, hell, down right uplifting..
Doctor Setebos: The medium definitely grew. Now that it's becoming easier and easier to start your own webcomic – the tools are there, it's cheaper (or free, in most cases), and the audience is becoming more adept at searching out new work – the growth of the industry is noticeable. More cartoonists are making money now, and the technology and resources are making the backend work easier to deal with. The improvements this year came in the resources available to webcomics creators, and that hasn't been so visible in the past.
Daku: There seems to be an overwhelming agreement that webcomics improved this year, but what was that improvement. William G pointed out WebcomicsNation, but I think Manley's new service is a symptom of what would have occurred anyway. The medium has been growing consistently for years now and it was only a matter of time before someone applied a good model like this for getting started. The true improvement has been that the medium is hitting the beginning of something like a golden age. There are already good artists out there that we can hold up the web's champions and now there are enough people turned off by the stagnation of syndication that the web is becoming the best alternative.
Phil Kahn: The only thing I can say with any certainty is that there is simply more of everything. Every part of the community has increased in quantity and/or quality on some level.
Eric Burns: This was the year of the Webcomics Collective, and the tremendous improvements in the art form were largely driven by those collectives. Look at Blank Label Comics — it wasn't just that those nine creators jumped into the pool on their own. They've also redesigned their websites, relaunched their comics entirely (including the ballsy move on Melonpool's part of dropping all their existing archives from the web without warning), launched entirely new webcomics (Ugly Hill, Starslip Crisis, and so forth) and tried new and risky moves. The Webcomics Hurricane Katrina Red Cross benefit was wholly organized by Blank Label Comics as well, and that was monumental not only as a watershed moment in comics, but as an artistic moment. I think people really didn't understand the potential of the medium to organize and respond the way it did that week.
Wednesday White: I felt like we were spinning our wheels more than anything. This frustrates me. Individual creators have grown and developed, but that's individuals.I feel as though I can really only speak to the meta with any true authority. We spend more time and energy trying to track our growth and development than we do having growth and development. We are still at the point where attempts at genuine critical writing are read, as often as not, as personal attacks or insignificant wank. We pass up discussion of ongoing trends in favour of repeating to one another that so-and-so did X in comic Y and OH WOW. As I said, we continue to communicate so poorly that we still think we're a single community rather than a set of overlapping circles populating a movement and a medium. We have not yet learned how to harness our introspection as effectively as we could.I don't think that podcasting has yet given us anything which couldn't have been handled equally well, or better, as text. The same information is just being repackaged in a new format, save for that now I know that there is a show in America called Lost which people watch. (Presumably, I could have learned that by reading as well.) With all due respect to the folks at Digital Strips and Blank Label and so on, I don't think that the mere extension of our metaconversation into what amounts to amateur independent radio gives us any kind of major leg up.
We did a better job with services provision this year (WCN, the Webcomics Encyclopedia, OhNoRobot, possibly ). Matters of site infrastructure are finally being taken more seriously. As usual, we find ourselves one or more steps beyond the cutting edge of web development, but usability, web standards, accessibility and content portability are no longer being shrugged off so readily in favour of chrome and bloat. (That said, it continues to alarm me that a movement and medium so bound up in online presentation is, in fact, so often xenophobic and ill-educated about the tools it's meant to be using to begin with. A List Apart is fun! WordPress isn't as easy as it looks! Why are our dedicated content management systems so far behind the curve?)
Xaviar Xerexes: My general notion with this question was to talk about art and storytelling and experimentation, but I can see where Wednesday is coming from in forcusing on the technical side of things. We're talking about webcomics afterall. I saw a lot of artistic development in individual comics and a greater number of comics dealing with deeper stories and themes. Nothing wrong with more lighthearted tales at all, but it was good to see more literate work like Alexander Danner's Discovery of Spoons and David Hellman's and Dale Beran's A Lesson Is Learned But the Damage Is Irreversible.
What I think was absent this year was any excitement about the possibilities of the form. The closest I saw to genuine excitement was the release of Daniel Goodbrey's new Tarquin Engine, but that is really at heart a refinement of infinite canvas ideas and not an entirely new concept. I'll also give cat garza a lot of credit for experimenting with music in comics, but I don't think he's nailed it in a way that really works organically yet.
Gilead Pellaeon: I'll agree with Eric. Collectives were the big new shiny thing of 2005. But unfortunately at this point, collectives are still doing little more than producing yet more inbreeding in the webcomics world. We're not really seeing a marked increase in total readers so much as we're seeing an increase in the number of comics the average reader reads. The problem of how to reach the public at large still remains to be solved.
And I wholeheartedly agree with Wednesday about webcomics being sorely behind the technology curve. It's sad how lame most webcomic sites are. I'm really not a fan of WebcomicsNation because the presentation there is so rigid and just, well, boring. Keenspot looks more like old school Geocities than the huge network that it is. The only ones who are really showing any evidence of slick programming and design-for-the-web skills through their own power (because Penny Arcade and Ctrl+Alt+Del just paid some people to do it for them) is Blank Label Comics, with almost every comic having a well designed site. That little "label in the corner" navigation between sites using Macromedia Flash is pretty slick as well.
Xaviar Xerexes: What do you think were the most interesting developments on the business side of webcomics?
Daku: Webcomic collectives have been around ever since Keenspot was created in 2000, but it wasn't until this year that everyone seem to realize it was the best model for a business. It's hard to run a corporation alone, but when comics banded together they found one artist could focus on PR, another technical, still another on distribution, and everyone still manage to do less work then when alone. This doesn't even cover the cross-promotion each member gives each other, especially if comics don't overlap demographics.
William G: Despite my bitching above, it seems that the webcomic jury has finally come to a decision on how to make money off of the web. And it seems that your webcomic is there solely to lure people into your t-shirt store. Sorry micropayments. No one wants to pay for comics. They aren't valuable enough. Never underestimate the power of XXXL 100% cotton.
Karl Kuras: The founding of Blank Label Comics. This changes the dynamic. Hosting and advertising no longer being handled by non-artist, but by the artists themselves. The parallels to United Artists are hard to miss. YDK getting a development deal. If this hits, we might see a flood of webcomics getting offers… The possibility of big time payouts will inspire more artists to put more time and effort into their comics and really push us qualitatively through the roof.
Doctor Setebos: I agree with Daku about webcomics collectives. They're flavor of the month right now, but gaining more and more credibility as collectives realize that they can do far more as a group than they can ever accomplish individually. Collectives are doing podcasts, publishing collections, marketing to a wider audience. It's amazing to see what people can do when they band together for success.
Phil Kahn: WCN, I feel, is a sleeping giant. It's rife with potential, and it will show it's true worth soon enough. I like DJ Coffman's Webcomic$ blog, dedicated to exploring money-making techniques. And collectives are an idea I've been behind for the past couple of years.
Daku: Podcasts! I just didn't want to be the first o�ne to mention it. I disagree with William though — I have to say no o�ne has done micropayments correctly yet. I don't think it's the answer to all our problems, but I think it will still work as part of the overall solution. The readers just have to get over owning a physical object and get use to paying for a service instead.
Ping Teo: I also don't agree that merchandising is the only way to earn money from webcomics. While I think the current micropayment model has real problems, there's still the need to experiment with other financial models. Granted, a lot of them are going to fail, but we need some to fail so we know what works and what doesn't.
Eric Burns: Like I said before — this is the year of the Webcomics Collective. Blank Label jumps right out, but this year saw tremendous evolution at places like Dayfree, Boxcar, Dumbrella and others, with more people signing on and more models being tried. Dumbrella in particular is interesting, since they now literally share warehousing of merchandise and shipping among themselves. It's hard to think of another group of webcartoonists these days who have congregated (largely) in the same area of the country, and who head on down to the 'office' every day to package and ship, as well as doing their comickal stripping.
Further, the idea of the collective banding together to assume the risks of hosting without the traditional syndicate heads over them — even the "webcomics version" of those heads, like Joey Manley or the Keenspot Four — is both liberating and exciting. They're poised to reap the benefits and share the risks, and that's pretty astounding. And in a day and age where print houses are going to the web, it wouldn't surprise me to ultimately see some of the successful independents join up into some of the collectives as well. We know, for example, that Sluggy's had its share of financial issues. If Sluggy hooked up with Dumbrella, could some of that be mitigated? Who knows. It'll be interesting to see what happens next.
Xaviar Xerexes: Having a little experience with being in a collective in days past, I think the difference between then and now with Blank Label Comics is that the BLC members left Keenspot. That was something a lot of creators wouldn't have been willing to do a few years ago. In general, I think more creators just did better financially this year. Whether that was from a growing of the overall audience or just better efforts to make money I don't know. But it does put Eric's Sluggy point in an interesting perspective. Abrams got so far ahead of everyone else so fast and so early on (maybe only Illiad was in a similar spot) that I doubt he would have seen any reason to look to others for any kind of partnership. The BLC group of creators are similar enough in audience numbers that they shouldn't have too many ego issues to deal with. I don't doubt some successful independents will join up with some of the new collectives, but I suspect they'll be successful independents from the world of print who will find collectives a useful way to transition to the web.
Bob Stevenson: The blurred move back and forth from web to print of some folks has been interesting to watch. I'm thinking specifically of Butternut Squash, Jason Lex's stuff, Garrity and Langridge, the frenzy of buying at the San Diego con's Dumbrella booth. I hope they are a hint of what's to come. WCN has already been mentioned, and I have to agree that it may become an important player, but Joey's a fan of the slow-grow so I think it'll be a couple of years before it's fully realized.
Also, I know Blank Label has been mentioned, but I'm not conviced it's all that exciting. They weren't the first to make the jump and there are plenty of creators who've run their own show from the get-go.
Gilead Pellaeon: I'm surprised only Bob mentioned what seems to me like a polynomial expansion in the production of print collections of webcomics. You could turn to collectives as a business model, but they're really more of a growth and maturity model. While collectives can provide some profit sharing via advertising revenues, nobody but nobody can make a living off advertising revenues these days. Lulu provides an easy, quality way to transfer your comics to a print form, at no cost to you, and even does all the store management junk for you so you don't have to deal with it. Sure you'll have hardcore fans that want to buy your t-shirts, but what makes them fans of your strip is the strip itself, and giving them an opportunity to read your strip in the bathroom, along with some Not Available on the Web! content, is a very nice development.
Xaviar Xerexes: What technical developments from this year do you think will have lasting impact? Things that come to my mind include stuff like comics on the iPod and the PSP, the Tarquin Engine and Joey Manley's WebcomicNation service.
Daku: As much as I like what the Tarquin Engine does for infinite canvas I don't see it truly revolutionizing anything. The heaviest impact o�n our little community will probably be the PSP. There was already a movement started to get comics on the cell phone, but there just weren't any big players backing it like Sony is for the PSP.
Phil Kahn: Everything is still so new It's really hard to say. WCN, like I said, is going to show its value in time. And the Tarquin Eengine is still in my mind the best way to go about infinite canvas. I don't know about reading comics on a PSP or an iPod. They'd probably look really small and pixelated, although I guess I'll just have to see. Otherwise, it feels like we're still experimenting. So we'll have to let time tell what'll work the best.
William G: As much as I think the Tarquin Engine rocks, it requires some flash knowledge to work it. And the Infinite Canvas software is an Apple only thing. Which I think will always be a stumbling block to their long term success. PSP and iPod are good portable tools, but I'm doubting their usage will deviate enough from their base purposes of games and music to have a large impact on webcomics. WCN… Looking at how many Modern Tales creators are leaving the subscription model and jumping to it, I think it may be have the bigger impact of the examples you cited.
But I think the most important tech improvement this year has been the surge in broadband users. As well as 1024 x 768 resolution monitors becoming the norm. The means of distribution has finally caught up to webcomics, and I think that has helped greatly.
Bob Stevenson: Rather than pick one development here, I've become interested in a class of developments. Webcomics seem to be putting its own house in order. We've had webcomics news venues and review venues and creator groups aplenty that have done some of this, but this year I think we added some interesting new forms of organization: Comic Nation, WCN, Oh No Robot, WCE roundtables, even our very own podcasts.
Doctor Setebos: If I can reword this to be the technical development I HOPE will have a lasting impact, I would have to say Oh No Robot. To have a user-crafted full-text search tool for your comic is a fantastic idea if people get involved (that's the caveat). I hope to see this project get more recognition next year and have major cartoonists contribute to the effort. It could be a fantastic tool, but it isn't useful unless it has significant content.
Also, in addition to this, can you call the Webcomics Encyclopedia at comixpedia.org a "technical development"? Because if it fits into this category, it deserves recognition.
A webcomics search tool like Oh No Robot fits hand-in-hand with an encyclopedia devoted entirely to webcomics. The two services have the potential to be extremely handy tools to the future of webcomics.
Karl Kuras: The big innovation has been the podcast. This allows for a new, cheap way to communicate with the fanbase. The big advantage to webcomics, over traditional comics has been the boundless space for additional material. All the successful comics have used the blog format to add content and build community (heck, Penny Arcade wouldn't be readable without the blog most of the time) and adding an audio component just further builds the relationship between audience and creator. Podcasts are going to keep expanding and becoming a common place item accompanying webcomics.
Eric Burns: This year, the "webcomics community" developed the technology to completely blur the line between creators and audience. Podcasting and blogging have become huge — and fans have had a tremendous impact this year, in ways that before now they could only have inside of individual comic communities. Obviously, Websnark's a success story there, and I'm proud to be a part of it. However, it's just one side of an overall "lowering of the barriers for entry." With tools like Typepad or Blogger, it's simple and inexpensive to launch a blog that can draw a lot of readers. With the massive increase in average bandwidth and the significant improvement in both recording technology and search engines, podcasting has really taken root.
With Webcomics Nation, folks scared off until now by Comics Genesis's rather baroque updating system have an easy turnkey solution to launching their webcomic. With programs like Comic Life now out there, any cretin can make a webcomic about revolutionary war statues and put it on the web later that afternoon. And now, Oh No Robot is poised to not only make comics searchable, but harness the power of the fanbase for good — in exactly the same way that Comixpedia.org lets that community come together and build the reference materials needed for newcomers and old hands alike. These days, everyone gets to pitch in.
Wednesday White: As above.
Gilead Pellaeon: Nods to Doctor Sebetos. There was no technological innovation with greater potential this year than OhNoRobot. This is what webcomics (and heck, even comics in general) have been waiting for. Some way for a reader to say "Remember that one strip where the guy said 'poopie' and it was hilarious?" and then be able to instantly search up and find that strip. I can't tell you how many long and frustrating searches I've had over the years with print comics looking through collected volumes and Ucomics.com trying to find "that one strip".
WebcomicsNation may seem neat right now, but that's only because everything that came before it was so danged clunky. It's going to be the next generation Webcomic content management system, the one that takes the principles of WebcomicsNation and then makes it good, which will really have a resounding impact.
Also, Burns reminded me of the goodness which is wikis and Comixpedia.org. A webcomics version of the Wikipedia is just what this community needs.
Ping Teo: Although to be fair, the folks over at Comic Genesis are slowly revamping the old Autokeen code and coming up with an easier, "less baroque" way of doing things. It's still in the works, of course, but the new control panel Kisai came up with is a vast improvement already. It's almost as easy to use as the WCN control panel, for one.
Xaviar Xerexes: What in terms of what you wrote about this year resonated the loudest with your readers?
William G: Hahahahahahahahaha! Man… Let's just say: Gamers have turned frothing-at-the-mouth-crazy into an artform that would make Osama Bin Ladin throw down his microphone and exit his cave going, "Shit man. I'm out classed."
Karl: On the gigcast, we discussed the growing tensions between the print and webcomic worlds and how they are beginning to both butt heads and cross-pollinate. The world is changing and no one knows what part of the pie they will end up with.
Doctor Setebos: HAHA! Good one! You know I have no readers.
Daku: There's been a few articles which have generated some of the greatest responses. Early on it was my review of Sore Thumbs, but that was eclipsed by our passing mention of Wikipedia deleting webcomics which didn't have enough presence. Podcast-wise the hottest topic has easily been the manga debate.
Eric Burns: It was a weird year for me. On the one hand, my essays about personal things reaped far more commentary than anything else I did. Writing about the decline and fall of Western Civilization or Sluggy Freelance? Got some mild notice. Describing hanging out at the mall waiting for new tires? HUGE response.
On the other hand, when I deviate from webcomics, I get people pissed off at me. So, on the whole, "fucked if I know."
Wednesday White: If Technorati's anything to go on, I don't think I have readers.
Phil Kahn: Interestingly enough, I got the most feedback from my NaDruWriNi Post, where I ranted drunkenly about experimentalism and Dots (the candy). A close second is the conversation I had with Rob Balder about how I don't like how Brian Michael Bendis is raping the Marvel Universe (from a strictly rabid fanboy point of view). So apparently, I'm at my best when I'm either inebriated or acting completely irrational.
Bob Stevenson: I'm not sure I've ever had many readers, but just as I was winding things down on the review front, dozens of requests for came in. I have a backlog of something like sixty that I'm not sure what to do with. I don't have the time to give them the attention they deserve, and I'm not even sure how many creators would still want my opinion after a six month lag. I guess the message to me was that lots of creators feel that all the critiques and reviews and snapshots are just not casting their nets broadly enough. I need to get my own concept rolling again, I think.
Gilead Pellaeon: If "resonated with your readers" means generated the most comments and dicussion, it'd have to be my ongoing series on webcomic website design. So far I've covered general design principles such as how your site is structured (comic first, news first, or blog style) and different methods of archiving and I've gotten some good discussion going. Hopefully as I continue to write we'll illuminate even more issues and really help some creators spruce up their sites a bit.
Ping Teo: Probably the "Uncomplicating Webcomics" rant I did regarding the New York Times article controversy. Personally I thought some people were making too much of the prefix "web" before "comics", and lost sight of what it was all about.Another article that got a lot of attention was the soapbox on Women in Webcomics that I did earlier this year, although it sure got a few people rather warmed up as well, to put it mildly.
Xaviar Xerexes: What about your personal favorite posts/essays on webcomics? Can you tell us about one of those?
Daku: This would have to be the Webcomics Examiner round-table discussion on The Artistic History of Webcomics. This should be required reading in any class covering comics. If any article this year is going to be looked back on it will be that one.
William G: They're all my favorites. That's because they're all instant electronic classics of western literature. Like everything I put on the web.
Karl: My favorite was when Owen Dunne announced the deal with Fox. This for me will be remembered as a watershed moment in our community. This is when someone from the old media world finally recognized the strength of the material that was born in ours. If this succeeds our world will never be the same again. We won't be fighting over getting a few page views more, but who is going to get the next movie deal. And with money comes professionalism, and with professionalism comes quality.
Phil Kahn: The growth of "The Dialogue" as a whole has been splendid. At first, there wasn't much writing going around to read. Not enough to satiate the appetite. There's a lot more now, and I'm feeling quite satisfied with the volume of Webcomics Writing. There's always room for more, though.
Bob Stevenson: For me, the most interesting pieces of writing on webcomics have been taking place on the roundtable and advisory board mailing lists. Having been on and off a bunch of them during the past few years I have to say the nature and tone of the behind-the-scenes conversations about webcomics has been changing in some important ways. The talk seems to be increasingly about getting work done rather than where comics can go. It feels like a much more mature conversation.
Doctor Setebos: Anything written by Eric Burns. Seriously. The man's words are likely dipped in gold before being pasted to the internet.
Eric Burns: The hardest thing about the dipping in gold process is the paper catches fire. So we need to etch the words in a polycarbonate heat tile first. Wednesday's gotten damn good at that. Of my own stuff, I suppose the watershed moment of webcomics writing was the Views of the Q-List: The Dumbrella Meet and Greet essay I did. It's one of my best received things, and it really helped shape my impressions of this wild bucking pony of webcomics we're all in together.
Wedneday White: I got nothing.
Bob Stevenson: I have to echo Eric here. That Dumbrella post was my favorties post/essay of the year. It was beautiful.
Gilead Pellaeon: It's hard to look at the mass of review and commentary which has been written and really pull out individual gems. It's definitely an area in which the result is greater than the sum of the parts. That being said, I really enjoyed Burns' post on the nature of Webcomics Criticism. That really made me think. The Artistic History of Webcomics has also been really good as it really provides a nice retrospective of where we've been, and it's hard to think about where we're going unless we know where we've been.
Ping Teo: A lot of good posts on Websnark, but one of Wednesday's posts on the depiction of sexual harassment in comics stands out. It's such a touchy subject and generated a lot of interesting discussion.
Xaviar Xerexes: Looking at comics as a whole (web, newspaper, books, etc.) what do you think happened to the role of the web in the larger medium this year? Did the boundaries between publishing medium blur? Is there any point anymore to thinking of creators as "web" or otherwise or are we moving into a world where o�n or off the web is less meaningful then other differences like genre or business relationship (independent or work-for-hire)?
William G: The web has become the new home for what would have been called in print "Indy comics". And like before, the print companies will always look to the indies for talent to mine. I don't think the line between webcomics and print will blur, so much as webcomics will become a farming system for print. But none of that matters. Comics as a medium will continue to be a culturally obscure bit of geekery until we creators stop making them for other thirty-something geeks like ourselves and start trying to get kids reading. And for our long term survival, that's what we need to do.
Karl Kuras: The web still isn't a viable financial medium (with a very few very notable exceptions, natch). The financial issue is still the sticker in this whole debate, and that is what distinguishes US from THEM. We are the hobbyists, the amateurs, the wannabes. The guys doing rehashed boring Superman stories are the pros. We may be super creative, and cutting edge, but we still have to hold down a day job and burn the midnight oil. Until that distinction is gone, a glass ceiling will continue to exist between our two worlds.
Doctor Setebos: I agree with both William G and Karl. The web truly is the "indy" cartoonists market, since as I mentioned earlier the current tools make it easier and cheaper than self-publishing and there's far fewer hoops to jump through than syndication. The biggest reason for the growth of webcomics is due to its freedom. The creator controls all content, rights, and marketing. It's up to the creator to succeed or fail, and it's singularly terrifying and exhilarating. But in the end, though we wish it were different, there is still a stigma of "us" vs "them" in the web vs newspaper comic industries.
Daku: There's a few points I will have to agree with the rest of the guys. The whole medium seems to think that we're special and therefore we're "indie". Come on guys, indie just implies we don't make money and I can just about guarantee that there thousands more indie print artists then web artists, and vast number of web artists are just print artists who got tired of being turned down. Sites such as Lulu, Comic Press, and 01Comics have started blurring the lines as web artists are finding it easier to get their material in print form, and honestly that's what we all want to do. I think the reason there seems to be a separation between web and print artists is that we as an industry want to be special. The whole separation could simply be there because we put it there to begin with.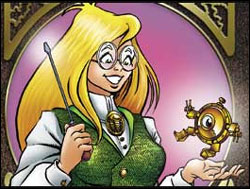 Eric Burns: I think we're getting closer to eliminating the distinction between print and web, newspaper and the like except in purely technical ways. I think it was huge when Girl Genius (and the Norm, for that matter) jumped to web-only and found greater success there. I really do. Further, the reason so many old guard syndicated folks like our old friend Wiley hate us so much is because we care less and less about the validation they embrace. When the evolution of the art form is being driven by folks like us, and the newspapers are dying out in general, we find ourselves in Bizarro world. BIZARRO! I also think webcomics — and what's happening in particular to the newspapers, but to a lesser extent also the comic books — is presaging what will ultimately happen to things like the music industry. More and more, creators are realizing they have no pressing desire to jump through the necessary hoops to get in the papers or DC, but would rather just do their own thing on the web. Sooner or later, that same movement's going to drive most innovative musicians away from the big music labels. And then from there, handheld digital cameras will start driving independent film and distribution's going to be broadband based. The sad part about all this is no one's going to exactly get rich doing any of these things.
Wednesday White: Those lines have been blurred since the start, and are not getting any muddier. The folks playing with the dread infinite canvas, or producing what amounts to limited animation without any consideration of practical UI, are very much the minority. The difference is simply that print has become more accessible, affordable, and profitable to people who don't have publishing contracts. Webcomics, for the most part, has always been about defining the primary point of distribution, not the only one. Again, I don't think anything's changed beyond broader deployment.
Gilead Pellaeon: I think it's pretty clear that the line between webcomic and print has been blurred pretty handily. I mean, pretty much any print comic these days appears on the web, and pretty much any webcomic could appear in print, thanks to Lulu and the like. What still differs is means of distribution. There just quite frankly still is not a decent method of distribution for webcomics to the general public. This is the same sort of struggle that print comics went through, actually, about 80 years ago, which is why syndicates and major press companies were developed. Not so much to increase the popularity of a given comic as to increase the potential popularity of a given comic via a large-scale distribution system. We in the webcomic world just don't have that sort of system yet. There is no webcomic Fantagraphics. But when there is, then the lines will no longer exist.
Xaviar Xerexes: Give me a bold prediction about where webcomics will be at the end of 2006.
William G: Frank Miller is going to serialize his next Sin City yarn on the Dark Horse website. It's going to get huge numbers, and we're going to see a flood of new readers looking for long form comics. Gag strips will make many cutting jokes about it to cover up for their inferiority.
Karl Kuras: Bold? YDK launches to rave reviews (maybe in the time slot of the now aging Malcolm in the Middle) and immediately becomes a huge success sandwiched between Simpsons and Family Guy. The studios, burned out by super hero flicks and revamps of old horror and scifi movies/shows go looking for new and original content, and suddenly small time creators all over the web are getting fat licensing deals for the movie rights to their work. This will lead to every major comic book creator, people like Alan Moore, Warren Ellis, Grant Morrison and all the other cool English guys, to jump in and begin projects of their own. This groundswell of quality work will make print comics obsolete, killing the comic book shop and the few comics that do survive will o�nce again be sold through racks at the local grocery store. All this in just o�ne short year. Now THAT's bold.
Doctor Setebos: Mainstream. As broadband creeps slowly into everyone's homes, and online is everything, people will discover the popular webcomics. PvP and Penny Arcade will be on the forefront of the public onslaught. Journalists from respected newspapers and television news magazines will begin to write intelligent and eye-opening articles on webcomics that actually inform the public of this expansive entertainment industry that is growing daily right there on the internet. More services will be created/shifted to provide subscription webcomic content to the droves of readers that will begin to pour onto the webcomics community by next summer. More webcomics will be signed to those subscription services, and fans will cheer wildly as their favorite cartoonists finally reach the "big time".
But that's nothing. In 2007, webcomics will be the source of world peace and the cure for cancer.
Daku: I like William G's and Doctor Setebos' predictions. Of course to put the twist in I think all this will happen because some big players will move in and try to take it all over. If people like Frank Miller start making serial comics online that's pretty much going to draw the line in the sand for the rest of the artists.
Eric Burns: Hoboken.
Wednesday White: On very large IDE discs mounted inside powerful servers which aren't backed up often enough.
Phil Kahn: Three words – Spatula Themed Webcomics. I can't say any more, Non-Disclosure Agreement.
Bob Stevenson: I spent some time talking with a Nielson executive this fall (the tv ratings folks). He hadn't considered the kind of traffic and market webcomics pull in or more importantly their narrow demographic. I'm not sure I convinced him it was worth any attention, but I'm thinking that some big companies may finally realize there's an underexploited market in the making that's worth throwing some money at. The cost to try something out on a large scale is just too low for someone not to. Sure, we comic creators have talked about how to reach a wider advertising market, but I think services like google adsense and the 360ep signings may have made some of us too passive on that front. Unless our efforts change drastically (they won't), it'll take some of the advertisers coming at webcomics to start realizing the potential on that front. Will it happen in 2006? How much is Rockstar Games paying Tycho and Gabe in 2005?
Gilead Pellaeon: By bold do you mean unrealistic? Because many of these projections are just plain unrealistic. If I were to make what I would consider a "bold" statement, I'd say: Tim Buckley's Ctrl+Alt+Del animation is a resounding success. As a result, some other major webcomics creators (PvP, Penny Arcade), not wanting to look "behind the times" jump on the bandwagon and get some animated versions of their characters going on (this would result in a lot of drama, by the way. Let me tell you.). Then, because "the big guys" are doing it, a lot of smaller time comics start as well. For some comics this would actually be a very simple thing to do. Take for instance Starslip Crisis, whose characters are already Flash sprites. Making Starslip animations would be a cinch. As a result, we see a new era of comic and animation paired on the web. And seeing actual animations of comics makes them much more attractive for optioning by television studios such as Cartoon Network, resulting in a few more signings.
I also foresee that someone in the web hacking community who enjoys webcomics is finally going to get off their lazy butt and write up a decent content management system for webcomics, one which does for webcomics what phpNuke, postNuke, and Mambo have done for news and article sites.
Ping Teo: I suspect Daku is going to be right, and the big companies will start testing to water to see if they can get in on the action as well. What I'm not sure is if they're going to have patience to stick it out though. They'll probably set up a subscription site for a month or two and then close it down and dismiss webcomics as a dismal failure.
Xaviar Xerexes: Alright I've got my snark tongue somewhat in cheek here, but "Webcomics Community Drama" — for it or against it?
William G: Since the giddy thrill of either being part of, or watching, TEH DRAMA is the only time we can get "the community" to look beyond the ends of their own noses, I'd have to say that it provides a vital service. So on that note: KAHHHHHHHHNNNNN!!!! I challenge youuuuuuu~! TO THUNDERDOME!
Karl: Love it. It means we are a community, it means we have a voice, and that we can be as petty as the next bunch of artistic snobs. We need to bolster our identity as webcartoonists, and by having these little dramas we get to know eachother better, find out who else is out there in a way that a review just couldn't do, and remind us that we aren't alone as creators.
Doctor Setebos: Absolutely! As William G points out, when the drama hits, that's the only time we can get certain sheltered pockets of the webcomics community to realize that the industry is actually much larger than the one or two comics they just happen to be reading. And like the saying goes, there's no such thing as bad press. It all drives traffic to someone's corner of the universe, and that always has the potential to be a good thing.
Ping Teo: TEH DRAMA is evil. We should not fight amongst ourselves! The laughter or our enemies will be our only reward! Who am I kidding? Secretly we all enjoy it, to a certain extent. Drama is part of the community and always has been, probably always will be. But there are upshots, as arguing with each other stimulates thought, and I've gotten a lot of good ideas reading through the arguments of those involved with TEH DRAMA!
Daku: Love it. Without it I would have to come up with something worth reading instead of relying on all the drama. Kind of wish it would happen outside of PA, PvP, and Yirmumah! so I can find some other players. Webcomic drama has probably been the easiest way to find new strips.
Eric Burns: I'm actually getting a little tired of it, but it's been a long week so take that for what it's worth. Here's the thing. There will always be drama. We're creative people — both creators and fans — mashed up together with opinions running wild and forced through a machine that looks like a video game. There will always be drama, because we have the raw materials that make drama in abundance all around us, and lots of folks running around with matches.
Wednesday White: If we put a fraction of the energy that goes towards stupid, stupid drama into bettering the comics, the infrastructure behind the comics, or the study of those comics, we would never have to have another conversation about whether or not the mainstream media recognizes us as a valid, accessible artistic movement. We would already be there, and no one would be able to question it.
Phil Kahn: Weds has got it absolutely right. Teh Drama is a waste of time and energy that could be spent on doing other far more productive things. And Will? I have no time for you.
William G: WHAT?! KAAAAAAHHHHHHHHNNNNNNNNNNNNNNNNNNNN!!!
Phil Kahn: Oh, that's clever.
Bob Stevenson: It is at once our biggest problem and our greatest gift. I think the banter ends up creating a sense of community and familiarity that, for the most part, outlasts the passions of the moment. And that the whole thing takes place on blogs imposes something of democracy on the whole thing that's refreshing. The "big boys" get down there in the pit and wrastle with all-comers, and the populist in me loves that. The historian in me thinks it's also an important symbol for the medium, its intimacy, its immediacy, its accessibility. And as for Websnark, where lots of the drama seems to stew, Eric seems to me the most potent of referees, absolutely open, fair and honest despite the muck.
Gilead Pellaeon: Drama is a good thing as long as it doesn't escalate to the point where it leaves people feeling bitter or disenfranchised. As long as the drama remains an interesting debate and not a simple flamewar, there's always ground to be gained by seeing the different opinions. And in many cases drama makes the comics involved much better (in the short run anyways) because it gives the creators the feeling that they have something to prove, and also releases some creative energy from the sheer excitement of it.
Xaviar Xerexes: That's it for the roundtable. Thanks again to everyone for participating.