The Perry Bible Fellowship has been called outrageous, morbid, hysterical, surreal… In this interview, creator Nicholas Gurewitch elaborates on all of the above.
You have an interesting mixture of filmmaking, comics and animation, and a killer website. It reminds me of a Far Side, only on the Web. You've said you created Perry Bible Fellowship out of boredom with the current crop of comics in the paper. When were you first bitten with the "bug" to create your own stuff? Were you brought up an environment that encouraged, or discouraged, creativity?
I can't remember when I took an interest in making stuff, but I started at a very young age. My mom was always looking for ways to occupy her three children, and crayons turned out to be a big hit. We were all artistic, and I know I was personally inspired by the other work being done at the time.
We know you were a filmmaking student at Syracuse University and Manchester resident. What don't we know about you that you'd care to share?
I think the saddest thing in the world is knowing that you've crushed life, or limited life in some way, and that you can't repair the damage. Ever kill a harmless bug in haste, or yell at a child, o�nly to have an immovable regret flow over you? It's the worst.
I know you've cited The Far Side and Calvin and Hobbes as influences. Who else influenced your storytelling and humor?
It's tough to say what o�ne's influences are. For all I know, the movie "Bambi" manifested every artistic drive I have in me. Who knows. I will mention that my Dad would often read Carl Bark's Uncle Scrooge comic books to my siblings and I when we were very young.
Who influenced your art? (Are some of those actual watercolors, or graphic program trickery?)
Unless it is obviously computer-colouring, the comics are watercoloured, painted, markered, or penciled. My favorite artists include Frank Frazetta & Alphonse Mucha. I probably developed a love of unwincing frame views from my love of Kubrick films. Naturally, I've picked up a thing or two by reading comics in my youth, especially o�nes by Sam Kieth and Rob Schrab.
Last I heard you were in twelve print papers and two magazines. How many print venues are you in now? What's more satisfying to you, appearing in print or o�n the web — and why?
Print's nice because people can cut a comic out with their scissors. The web is probably slightly less cool because it requires an extra step. Just got picked up for a few more venues, among them the Russian Maxim, and some magazine in Japan.
Do you have a favorite strip? (My personal favorite is the kid waking up for his birthday — and at the end, The Grim Reaper takes an abacus and moves o�ne bead to mark another year closer to death.)
That last one that made me laugh really, really hard is Scorpy the Forest Friend, though I try to make sure that whatever comic I'm working on is my new favorite.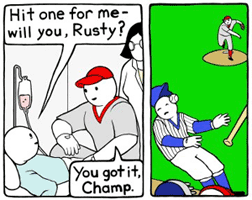 I see two patterns in your humor that resurface: that everything is balanced, (which may explain why you often contrast "cute" images with morbid humor) and be careful what you wish for. That any gain also has a drawback. (Just ask Grandpa, resurrected for "one more day".) Do you see any sort of pattern to your humor, any overriding theme?
Yes. There's a love of balance displayed in the strips. People tell me there's a lot of death in the strips too, but I like to think there's just a lot of severity; the severe reprecussions of wishes, lust, ambition, instincts, etc.
You don't strike me as the type who would be impressed by praise. Is there anyone you would be impressed if they praised the Perry Bible Fellowship?
A blind person, maybe. or someone who I find to be very different from me; Donald Rumsfield, or a chimpanzee or something.
I know you were working on filmmaking projects for MTV2 and Cartoon Network. Have any of them been aired yet? What can you tell us about them?
Cartoon Network projects didn't get greenlighted. I've had some short films aired on MTV2. I'm working with Comedy Central to get some good things done. We'll see what happens.
What are your future plans? I know you've expressed great admiration for Stanley Kubrick. Would you make his type of films, or go in an entirely different direction?
New directions are great, and becoming necessary. Sequel, prequels, remakes…is it rude to say that these are mostly barf?