Comics creators are drawn to the web for countless reasons: for some, it's the opportunity to reach wider audiences than print comics can; for some it's the freedom to publish at will, without needing to please an editor or publisher; for some it's the artistic possibilities offered by the digital medium itself. For my money, though, as a creator, the most exciting aspect of working in webcomics is the removal of geographic boundaries to cooperation in business and artistic ventures alike. Whether it's a publishing collective like Modern Tales, Keenspot, Blank Label, Chemistry Set, or Lunchbox Funnies, or smaller scale cooperation in the form of basic writer/artist creative pairings, the spirit of cooperation is alive and well in webcomics. In that spirit, this month we present five stories that exemplify the value of cooperation.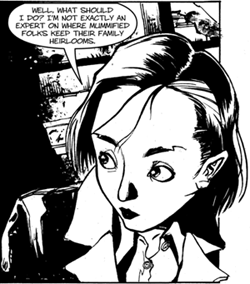 Agnes Quill in "The Mummified Heirloom" and "The Divided Man"
• Access: Free
• Illustrator: Jason Ho
• Writer: Dave Roman
• 30 pages
• Read this story
In these two linked stories, Agnes Quill, a young detective serving supernatural clients, helps an elderly ghost to rescue a valuable heirloom from an unsavory nephew, before being caught up in a larger case. For her second case, a crippled doctor who lost his legs to an illusionist's mishap hires Agnes to find his missing appendages. This completed story is part of Roman's ongoing Agnes Quill series.
Vulture Gulch – A Little Friendly Advice
Access: Free
Illustrator: Eric Kim
Writers: Jim Dougan
Eight pages
Two grave robbers in 19th Century New Mexico have their work interrupted by the arrival of a polite stranger. The first tale in Jim Dougan's anthology series Vulture Gulch and Other Stories.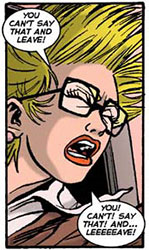 Rip & Teri
• Access: Free
• Colorists: David Willis, Abe Melendez, Jamie Noguchi
• Illustrator: John Waltrip
• Writer: T Campbell
• 184 pages
• Read this story
Campbell and Waltrip's spy romance tells the story of Rip Dustin, retired secret agent on the run from his old enemies and masters; and of schoolteacher Teri Anthony, the lover who refuses to give up on him and pursues him into peril. A tale of spies and terrorists, guns and poisons, disguises and deceptions, despair and hope.
After Days of Passion
Access: Free
Illustrator: Ben Templesmith
Writer: Antony Johnston
Twenty-five pages
Love tainted by addiction leads into a destructive cycle for a man and a woman who can't escape their passions. This non-linear narrative uses a "Choose Your Own Adventure" style of navigation to let the reader explore the confused and looping relationship of a doomed couple.
The Archeologists
Access: Free
Illustrator: John Barber
Writer: Steven Withrow
Nine Pages
A brief glimpse at a distant time, bridging past, present, and future. Restrained layouts and slivers of images bring to life a poem about an archeological expedition and its unusual discovery. This story uses a simple "click-to-advance" Flash interface to create smooth-flowing transitions from page to page.
Find more completed series and short stories at Full Story.