Last month, I complained that it was difficult to dig up enough stories to fill a full column for an "all ages" themed issue. I had no such problem this month! Of course, it's no surprise that fantasy stories are plentiful in webcomics—fantasy comics have long been one of the most successful genres among independent print comics, from Elfquest, to Bone, to Finder. Fantasy creators continue to explore every inch of the genre, from philosophical, to action-packed, to erotic, to the downright silly.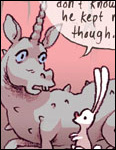 The Chase
In a strange stretch of countryside, a selection of curious creatures waste the day in fruitless pursuit. A little tale by comic-maker and illustrator Thomas Herpich.
1/0
Despite humble beginnings as a poorly-drawn gag strip, 1/0 quickly evolved into a sophisticated philosophical exploration of various religious themes, particularly emphasizing questions of the creator's responsibility to the creation. Noted for pushing the boundaries of what can be accomplished without a fourth wall, 1/0 permitted all characters to have metaficional awareness. Originally serialized in daily strip form, now complete with exactly 1,000 strips.
Lake Affect
Entranced and intimidated by the beauty of a bathing peasant woman, a nobleman makes a fateful decision. A short tale of sex and violence from AP. Furtado, creator of comics including the Tween and Elf and Troll series.
Felina: A Fairytale Holiday
While hiking in the mountains, Felina the cat happens into a fairytale kingdom, only to become tangled in three separate plots to marry the unfortunate princess Bridget to the most undesirable of suitors. A light-hearted adventure, filled with nefarious trolls, talking animals, and one cat's clever trickery.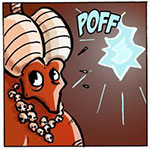 The Signal
A demon races and struggles through the perils and obstacles of Hell to answer a mysterious summons. A comic by freelance artist Jan Bintakies, created for the German online comics magazine INKplosion.
Frenzied Fauna
A mutated menagerie poses on the pages of Michel Gagne's warped alphabet book Frenzied Fauna, originally in print but now free to view online. Michel Gagne is a Canadian artist and writer with a career as character and concept designer for major animation studios. His recent and current work includes the continuing graphic novel The Saga of Rex, the comic series Zed, and the Insanely Twisted Shadow Puppets short animations.
Find more completed series and short stories at Full Story.