Everybody has fantasies, about power, fame, adventure, or sex. Lots of them are about sex.
Like getting it on with that hot girl or guy at the office/in the apartment across the hall/that you see on the bus, having a tryst with a favorite celebrity, or being alone with an adult film star. The chances of these fantasies coming true hover some insignificant distance away from zero, but that doesn't stop the human brain from creating them, lingering over them, caressing them, and returning to them again and again. But if presented with their fantasies, how many people would actually have the guts or ability to perform as they've dreamed? Damned few, that's how many.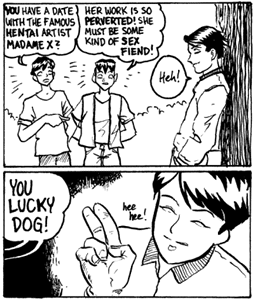 This is the premise of Sexy Losers, created by hard. The title is quite apt, since the characters in Sexy Losers are either losers in the literal sense, by failing or being denied the opportunity when they think they've gotten their chance, or losers in the figurative sense, by engaging in acts that place them out beyond the pale. But it also is a gag (interesting choice of words, that) strip, using these characters and their sexual foibles to poke fun at sex and sexuality.
Did I say "foibles?" I meant "freakish behavior." Sexy Losers has necrophilia, coprophagy, incest, bondage, golden showers, bestiality, constant masturbation, bukkake (a Japanese term for men ejaculating on a woman's face), and plenty of other weird shit. A reader has more than his or her share of fetishes, positions, and bodily fluids. But is Sexy Losers funny?
That will depend on the reader's tolerance for sexually explicit material. Simply put, if you don't like looking at pictures of people having sex, or talking about sex, or of exposed genitalia, then don't even think about reading. If you think you can handle what hard is dishing out, then you will indeed find some laughs. In the commentary to the very first strip hard gives his motivation behind starting Sexy Losers: "[I wanted Sexy Losers to be] adult humor the way it was meant to be — not with sex as the punchline, but sex as the medium to which explore what makes sex and all its weird little quirks funny." This is a worthy goal, since the phrase "sexual humor" probably makes most people think of the cartoons found in Hustler, not an intelligent examination of the humor that is present in human sexuality.
Sexy Losers starts out promisingly enough, poking fun at what men must think of women who draw or write erotica, how a fanboy might react if his animated fantasy girl was made flesh, and some pretty clever movie parodies. Unfortunately, over the course of the strip's archives, hard loses sight of his original motivation and in fact winds up using sex as the punchline more and more. Sexy Losers is more often Hustler material than not.
Worse yet, hard begins recycling the same jokes over and over. Touro attempts to seduce Madame X, but fails and is humiliated. Mike likes masturbating out in the open, to the mortification of his roommate Mark. Shiunji only likes having sex with dead people. Chie, the bukkake actress, can't go on a date without winding up with a face full of semen. After a while, it stops being funny and becomes merely tedious. A joke about bukkake is the X-rated equivalent of a pie in the face, and when was the last time you thought that was funny? When Jim Davis repeats his jokes he is regularly and rightly pilloried, so there is absolutely no reason for a webtoonist to expect to get away with it. At least Davis took ten or fifteen years to get to that point.
Sexy Losers is much better when hard stays away from his established characters and storylines. A short series about a pair of magician lovers is imaginative, as are the new products introduced by the staff of Scientific Erotican magazine. These strips are much closer to hard's stated vision for Sexy Losers, poking fun at sex and sexuality without using intercourse or orgasm as the joke itself.
In part, Sexy Losers succeeds in its mission to produce sophisticated adult humor, but taken as a whole, it is no more sophisticated than Howard Stern or Porky's. If that's the sort of adult humor you like, then head on over to Sexy Losers, because it will give you what you want. Otherwise, it just may make you feel disappointed, used, and sticky.