Craig Taillefer has been impressing us for years with his strong illustative style and storytelling skills, and his webcomic, Wahoo Morris, about a rock band and its psychic protagonist, has been a delight. Al Schroeder talked with him about combining his musical background and artistic background into a very unique strip.
Tell us a little about yourself that's not generally known.
Well, I'm not really sure what is generally known. I'm a freelance artist and sometimes musician; I live in Canada; I like cats, although I like them less when I try to type and the cat lays across my arms (which my cat is doing right now); I like rhubarb pie; I have a thing for big monkeys (but what cartoonist doesn't!). Not much to tell really.
Your art is excellent, reminding me alternately of Russ Manning and Berni Wrightson, and your inking is very strong. What artists have influenced you most?

Thank you. I never really know how to answer that question as a lot of my favourite artists don't show up in my work. Carl Barks (Uncle Scrooge) and Albert Uderzo (Asterix) were by far my two favourite artist/storytellers as I grew up, but I doubt much of that shows up in my work. I was very fond of Alberto Giolitti's work in Turok as a kid, but the two artists I look to for inspiration the most would be Hal Foster (Prince Valiant) and Alex Raymond (Flash Gordon). I'm also an admirer of J. Allen St. John who illustrated early Tarzan books as well as Roy Krenkel and most of the staff of E.C. comics, Johnny Craig being the standout for me.
What writers or writing has influenced you most?
Again, I'm not sure how to answer that. I devoured Edgar Rice Burroughs and Robert E. Howard books as an adolescent but I doubt much of that influence shows in a work like Wahoo Morris. I admire a lot of comic writers, but Will Eisner's To The Heart of The Storm and Howard Cruse's Stuck Rubber Baby were the two comic works that showed me what the comics form was capable of. I think those two works most influenced the direction I took when starting Wahoo Morris.
What music do you listen to while working? What musicians have influenced you most?
I'm a bit of a collector when it comes to music, so in any given day I could be listening to jazz from the 20's, to blues field recordings made in the 30's, to 50's rock, R&B, country, and blues, to classic rock, to alternative and punk. I have a taste for organic instruments (pianos, guitars, horns, drums – whether acoustic or electric) and am not very fond of computerized or synthetic music, so that colours what I listen to, but other than that I've got pretty wide open tastes. A few of my favourites being the Pixies, Jimi Hendrix, David Bowie, Howlin' Wolf, the Kinks, Frank Black, Matthew Sweet, Juliana Hatfield, and Cheap Trick. I just bought the Return of the Rentals last week and I can't seem to stop playing it.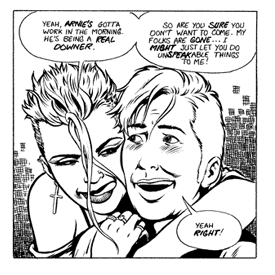 Are any of the characters in Wahoo Morris based on real people? Do you have any favorite characters? The story seems to center on Alicia, I know, but that doesn't mean she's your favorite character. Bash/Sebastian seems to share a few traits with you — musical and artistic talent.
Wahoo Morris is fiction, but I do throw in autobiographical moments. Some of the characters are purely fictional; Some are amalgams of people I know. It gets a little fuzzy who was based on whom after a while though, as the characters have taken on a life of their own and have strayed from their original conception/inspiration.
Yes, the current story-line centres around Alicia. Future stories will focus on different characters, or the group as a whole, but Alicia was the character, when added to the mix, that made the whole thing work for me. I guess you could say she is my favourite character… for now anyway. Sebastien is the character I use to speak through. While his character is different from mine, whenever I want to express something personal or tell a story that is more autobiographical, he is the vehicle I do it through.
What is most satisfying to you: musical release or artistic release?
They are both different. I find musical release much more immediate but fleeting. Artistic release involves a lot of grunt work labouring over pages, but the satisfaction over the final piece is long lasting.
Which of your other artistic releases are you proudest of? I especially liked the sword-and-sorcery tale Sian.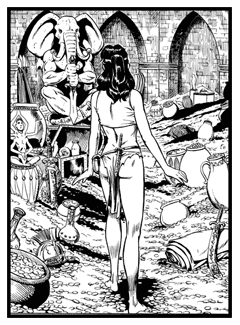 I think once I am done, I will be proudest of Wahoo Morris, but I'm also quite fond of Sian and want to find the time to continue her stories someday soon. I've done a fair amount of work-for-hire, with not a lot standing out, but I'm still quite proud of the two ElfQuest:WildHunt stories I did with Joellyn Auklandus.
What's the most satisfying part about releasing your work on the web? What's the most frustrating part?

The immediacy of it appeals to me. I also like being able to watch the audience grow daily. You can't check your stats to see how many times a print book is being read. While my audience isn't that big yet, I can see it growing day in day out.
The frustrations are the same in the print world: not being able to make enough money to do it full time. I didn't start posting on the web to make money though; I am mainly approaching web comics as a viral way of marketing eventual print collections, but I'm not turning my back on the options to make money from the web incarnations either. While I have no intention of ever giving up on print comics, I imagine every creator owned work I do in the future will appear first (and remain) on the web.
There are a lot of mystical/magic realism elements to Wahoo Morris. Is it a challenge to mix the mundane with the supernatural?

So far I've found it to be pretty natural. It won't be a constant element of the strip though. In future story lines, the mundane will take precedence.
How many pages do you think Wahoo Morris will go to? What are your future plans?

The current story line is set to run about 200 pages, give or take a few. I have plenty of stories to tell with the Wahoo Morris characters, so it's all a matter of finding the time to get them all done. I am working on a standalone 20 pager at the moment and I've got a 60-80 page prequel planned for the follow up to the current story. In print, I'm planning on getting the first in a series of trade paperback collections out sometime next year. Stay posted.